Beckley Water Line Service Repair and Installations
Beckley Plumbers
Beckley Water Line Service, Repairs, and Installations
For emergency water line service call 304-923-2013.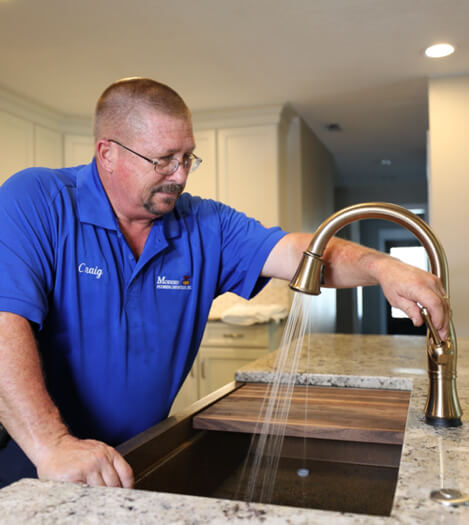 Beckley Plumbers provides professional services for water lines in Beckley, West Virginia and the surrounding communities. Water line repairs or replacements should be handled by a plumbing professional with experience and the right equipment. The technician will also need to be familiar with local building codes and aware of other underground utility lines to prevent damages to your property and your neighbors' properties. The Beckley Plumbers water line technicians at Beckley Plumbers have the experience and tools takes to install or repair a main water line with minimal damage to your property.
Beckley Main Water Line Repair and Installation
If you suspect that your main water line is broken or leaking, call us as soon as you can. The sooner you call one of our Beckley Plumbers water line technicians, the faster we can resolve the issue to prevent further water damage and get your fresh water supply back on. If you aren't sure how to tell if you may have a problem with your main water line, look for the following warning signs:
Sudden and unexplained flooding in your yard.
Significant drops in your overall water pressure.
Recent spikes in your water bill.
Extreme weather conditions.
While it may sound odd that extreme weather could damage pipes, lighting can cause pinhole leaks in pipes. Many residents in Beckley, WV may not be aware that there pipes have been damaged by lightning, so it is important to call a plumber if you have any concerns.
Call 304-923-2013 

for Water Lines in Beckley and the surrounding areas or click here to contact us
Call immediately if you notice flooding in your yard after a major thunderstorm or if you hear a hissing sound. This could be the sound of water pressure leaking out of one of these pinholes in your water lines. As with any plumbing issues, it is a good idea to call a plumber you can rely on to resolve it before it becomes a large expense and disruption of your daily routine.
Preventing Water Line Repair
Although extreme weather can cause damage to a water line, most leaks or holes are caused by root penetration or corrosion. This is why it is important to schedule routine maintenance visits with one of our Beckley Plumbers plumbing technicians. We recommend that you have your entire plumbing system inspected at least once a year. If you need a water line repair, our plumbers are equipped to handle the job with minimal damage to your yard and home.
Beckley Water Line Services with Beckley Plumbers
Call Beckley Plumbers whenever you notice any problems with your fresh water supply, or if you suspect that your main water line has a leak. Our Beckley Plumbers have the experience, knowledge, skills and tools to get the job done safely and efficiently. We offer twenty–four hour emergency repairs, so call Beckley Plumbers any time, night or day.